Show the Value of What You Do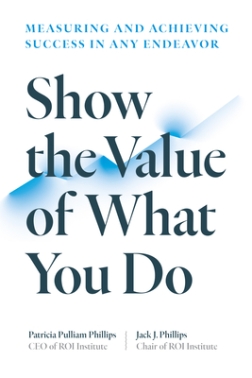 Measuring and Achieving Success in Any Endeavor
By Jack J. Phillips, Ph.D.
Published by Berrett-Koehler Publishers
Prove your effectiveness to anyone—and achieve professional success—by adapting the same ROI methods and metrics that leading companies use.

In an era of evidence-based inquiry, people need to be able to measure their success. In their new book, Patti Phillips and Jack Phillips aim to help readers see the value of their work and then share it with others.

The Show the Value process involves connecting projects with a business measure, collecting and analyzing data to track progress, and presenting the results to the right audiences. Readers will learn how to keep their work relevant, their careers on track, and their organizations healthy. The book includes extensive examples, diagnostic tools, and implementable practices that show how to measure and improve the success of any type of project. It will also help readers avoid disappointing results by designing for the desired results.

Written for specialists, professionals, managers, and independent contractors who want to achieve success in their work, this book is a step-by-step guide on how to show the value of their initiatives, offering a simplified version of the ROI Methodology.
Paperback | 168 pages | 9781523002276 | September 20, 2022