ROI in Marketing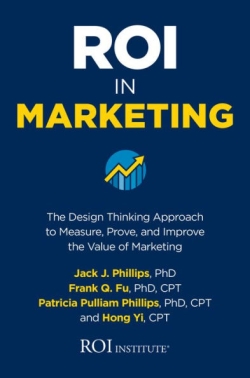 The Design Thinking Approach to Measure, Prove, and Improve the Value of Marketing
By Jack J. Phillips, Ph.D.
Published by McGraw-Hill Education
Co-Authors: Patricia Pulliam Phillips, Ph.D., Frank Q Fu, Ph.D., and Hong Yi
Get your bottom-line results where you want them by putting your marketing campaigns and initiatives to powerful new use
Marketing is all about understanding and serving your customers' needs―but how do you know that your events, campaigns, and communication initiatives are working at top effectiveness? And how can you determine whether your marketing investments are reaping real rewards? ROI (Return on Investment) is a performance measure used to evaluate the efficiency of all types of investments, and in this powerful guide, the team at the ROI Institute offer you a proven method for understanding your own marketing benchmarks as never before.
Drawing on real data collected from real cases of real companies in a variety of industries, ROI in Marketing uses a data-driven process to help you measure:
Input, including types of projects, audience reach, number of customers, costs, and more
Reactions of target groups to products, services, and messages
Actions, including how to process and monetize what the target group thinks, believes, and knows
Business impact of actions taken by the target group and their influence on sales, new accounts, and profits
ROI, monetary benefits of marketing programs compared to costs
Intangibles, such as image, reputation, corporate social responsibility, and more

Packed with actionable, results-driven processes, ROI in Marketing offers a powerful blueprint for transforming how you interact with your customers to get clear bottom-line results.
hardcover | 352 pages | 9781260460421 | October 27, 2020